POP EATER: When talk show queen Oprah Winfrey announced she was publicly supporting
Barack Obama for president back in 2008, she shocked many TV insiders who had always thought it best for talk show hosts to keep their political views to themselves.
Now as the 2012 election process has officially begun, sources tell me this time around Oprah's support will be much more private.
"For 2012, much has changed for Oprah. She now has own cable channel called OWN that has been struggling to find an audience — she isn't going to do anything to alienate them," a TV insider tells me. "Unlike in 2008, when a drop in ratings didn't matter as much for the queen of TV, Oprah is now fighting every day to get people to tune into OWN."
One reason may be that Michelle reportedly hates Oprah.
SHOWBIZ SPY: Recent reports claimed Michelle has been telling her nearest and dearest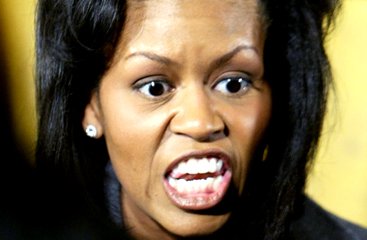 that she hopes nemesis Oprah Winfrey bombs when she launches her OWN network next year.
"Michelle hates Oprah," alleged one insider. "She's hoping she'll come crashing down to earth with her latest venture."
4 Responses to "Oprah won't endorse Obama for 2012. REPORT: Michelle 'hates' Oprah"