So Congressman Athony Weiner (who has been married for one year) spends a lot of time at his Congressional office sending graphic photos and lewd text messages across the Internet to women he doesn't know.
I debated with myself whether to post this because I really don't want Weiner to resign. He does us more good if he stays – as the face of the Democratic Party.
But the fact is: Weiner is engaging in these activities from his Congressional office. He represents the United States of America. He has disgraced the country.  Taxpayers are paying this man's salary. He is in position to become the next Mayor of New York City. So there's a national interest in showing exactly what kind of a man Anthony Weiner really is.
But here's what's truly incredible and sick.
Weiner actually sent this photo out to women across the Internet as a way to, well, impress them. Is anyone impressed?
Think about this for a moment. How much trouble did Weiner go through to to get this photo from this angle?
I don't think he clicked his camera with his toes, so he must have put it on a timer.
How many attempts must it have taken for him to get the shot he was happy with?
This project must have taken half the day.
Apparently, there's a reason he spent this much time on this.
In order to make his member look at big as possible (to the woman he's chatting with) this, evidently, is the ideal perspective.
A photo from above would make his member look short and puny.
Weiner must have studied this subject in depth, must have read books about it, with titles like: "How to Make Your ________ Look as Big as Possible."
Reports say he was engaging in much of this activity at his Congressional office. So he must have locked the door to prevent staffers from bursting in on scenes such as this unannounced.
And here's Andrew Breitbart discussing this photo on the Anthony and Opie radio show
Weiner: That's my wiener too!
MIAMI HERALD: Embattled New York Rep. Anthony Weiner's prospects for political survival dimmed precipitously on Wednesday with the appearance on the Internet of an X-rated photo said to be of the congressman – and the first calls from fellow Democrats for him to step down.
"In light of Anthony Weiner's offensive behavior online, he should resign," Pennsylvania Rep. Allyson Schwartz, a member of the party campaign committee's leadership, said in a statement that was quickly followed by similar expressions from other Democrats.
DENNIS MILLER: Weiner is "a Nasty Piece of Work"
Weiner's wife pregnant
NEW YORK TIMES: Their marriage has become the subject of intense speculation
and scrutiny amid an embarrassing online sex scandal.
Now, Representative Anthony D. Weiner and Huma Abedin are about to make news of a different kind they are expecting their first child.
Ms. Abedin, 35, is in the early stages of pregnancy, according to three people with knowledge of the situation.
The pregnancy, which the couple has disclosed to close friends and family, adds a new dimension to questions about the future of their marriage.
Huma in Africa with Hillary. Says She's Sticking with Weiner.
WALL STREET JOURNAL: She is married to one of the most bombastic, sociable and now scandal-
tarred politicians in the country. But Huma Abedin is an intensely private person whose quiet commitment to her husband, Rep. Anthony Weiner, has resulted in the two having rarely spent a weekend apart since their wedding last summer, friends say.
Now for some historical perspective . . .
Let's Start With this FLASHBACK to Check Out Weiner's Truthfulness . . .
He's sending these pics from his Congressional office
Weiner target Meagan Broussard, a 26-year-old single mom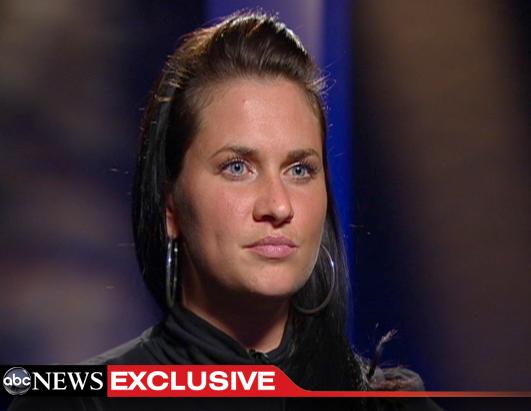 Weiner identifying himself with photo on Internet to Meagan Broussard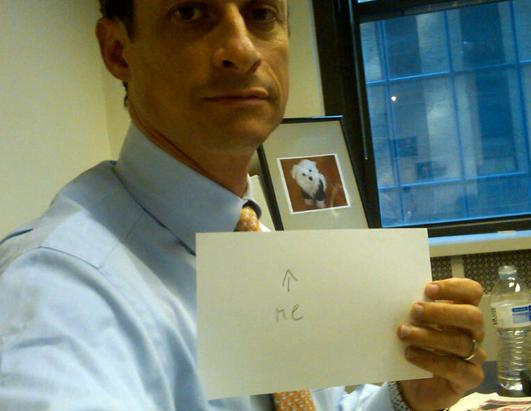 Used taxpayer money to engage in sexcapades
RADAR: The woman who carried on a nine-month sexting relationship with Rep. Anthony Weiner is a 40-year-old Las Vegas blackjack dealer named Lisa Weiss.
Following a bombshell joint investigation by RadarOnline.com and Star magazine, Weiss agreed to come forward and be the first woman named of the six who the congressman admitted to sending lewd messages and photos.
What's more, the blonde woman has revealed details that show the liberal congressman lied during his tear-jerking confession Monday at a press conference in New York and that he DID use government resources for his extra-marital activities.
Weiner says he had six inappropriate relationships
NBC NEW YORK: Rep. Anthony Weiner admitted he sent a photo of his bulging underwear to a female Twitter follower and says he has had inappropriate conversations with as many as six women on Facebook and Twitter over the past three years.
During a tearful news conference on Monday, Weiner apologized to his wife, family, constituents and friends, and said he is "deeply ashamed" but does not plan to resign. He said he does not believe he broke the law.
Here's how Weiner spends his time while working for taxpayers
NEW YORK POST: He told her he was a "caped crusader . . . looking for my sidekick."
"[I'm] dying of boredom over here. Plus my tights really itch, I need a distraction," the hot, bothered — and very married — Rep. Anthony Weiner shot off to sexy Vegas blackjack dealer Lisa Weiss in one of more than lewd 220 sexts and Facebook messages between the revved-up pair since Aug. 13.
Weiner — who'd been married less than a month when he started heavily flirting with Weiss online — soon got down and plenty dirtier, according to Weiss' explosive interview yesterday with RadarOnline.
"He admitted to "jerking off" to her Facebook photos, said Weiss, 40, a former Democratic Party worker.
At one point, the sex-crazed congressman wrote, "ridiculous bulge in my shorts now. wanna see?"
She replied, "Yea! can you send a pic?"
Weiner was happy to oblige.
"you give good head?" the pervy politician asked her.
"ive been told really good . . . and i love doing it," Weiss purred.
"wow a jewish girl who sucks [bleep]!" Weiner replied. "this thing is ready to do damage."
Weiss told the Web site that most of the duo's sexed-up exchanges occurred during his work hours — and that Weiner used his office phone for at least some of them. She said they fired back and forth 69 messages during just one sleazy exchange.
One Response to "GRAPHIC WARNING: Here is the actual photo of Anthony Weiner's penis that Breitbart showed on the Anthony and Opie show"