Archive for the 'Celebrities' Category
Here he was in 1992 at the Democrat Convention when he seemed to be, well, a Democrat . . .
But now he's for Santorum . . .
MUSIC RADAR: "I'm just hoping that whatever is in the White House next year is a Republican. I can't bear to watch what's happened to our great country. Everybody's got their head in the sand. Everybody in the industry is like, 'Oh, Obama's doing such a great job…' I don't think so. Not from what I see.
"Looking at the Republican candidates, I've got to tell you, I was floored the other
day to see that Mitt Romney's five boys have a $100 million trust fund. Where does a guy make that much money? So there's some questions there. And watching Newt Gingrich, I was pretty excited for a while, but now he's just gone back to being that person that everybody said he was – that angry little man. I still like him, but I don't think I'd vote for him.
"Ron Paul… you know, I heard somebody say he was like insecticide – 98 percent of it's inert gases, but it's the two percent that's left that will kill you. What that means is that he'll make total sense for a while, and then he'll say something so way out that it negates everything else. I like the guy because he knows how to excite the youth of America and fill them in on some things. But when he says that we're like the Taliban… I'm sorry, Congressman Paul, but I'm nothing like the Taliban.
"Earlier in the election, I was completely oblivious as to who Rick Santorum was, but when the dude went home to be with his daughter when she was sick, that was very commendable. Also, just watching how he hasn't gotten into doing these horrible, horrible attack ads like Mitt Romney's done against Newt Gingrich, and then the volume at which Newt has gone back at Romney… You know, I think Santorum has some presidential qualities, and I'm hoping that if it does come down to it, we'll see a Republican in the White House… and that it's Rick Santorum."
Let's get back to music. Now that Dave Ellefson is back in the band, would you say this is the best lineup of Megadeth you've ever had?
"Well, it's hard to answer that without risking hurting somebody's feelings. I mean, you've got Nick [Menza] and you've got [Jimmy] DeGrasso… But you know, Shawn [Drover] is the kind of drummer we wish we'd had in the beginning. David Ellefson commented on that, too – that if we'd met Shawn in the beginning, there would never have been any other drummers.
"As far as having Dave back in the band, yeah, it's been great. I think his self-inflicted time out [laughs] has been really good for us. He's matured a lot. I keep joking with him: 'Man, the last eight years you must have been practicing your butt off, 'cause you've gotten so much better.' But it's true. And Chris Broderick is great. He has no problem playing Chris Polland's music. When Marty [Friedman] was in the band, it was all about Marty. We let Chris Broderick spread his wings in the studio, and he's amazing – incredibly versatile."
"The saddest thing in life is wasted talent"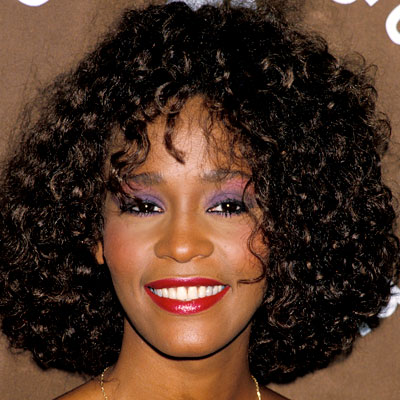 Robert DeNiro, "A Bronx Tale"
That about sums it up for Whitney Houston, Michael Jackson, Jimi Hendrix, Jim Morrison and other superstars who met their early demise due to drug addiction.
These are people who had it all.  She had it all.  She (at one point) had a dream life in front of her, but destroyed it with substance abuse.
She had a great voice.  Her singing of the Star Spangled Banner in front of the 1991 Super Bowl audience was one of the best renditions of the National Anthem I can remember — rivaling the great Kate Smith (who managed not to kill herself with drugs and alcohol).
Whitney Houston's theme song for the Body Guard movie was amazing — really the only thing good about that Kevin Costner dud of a film, saved only by the Whitney Houston theme song.
Most people do not have the kind of charmed life Whitney Houston had.
Most people are not fabulously wealthy, amazingly talented, and stunningly beautiful the way she was.  Most 48 year-olds are also not stumbling around night clubs at 3 a.m. in a drug and alcohol induced haze.
Most adults have to go to work every day, struggle to pay their bills, raise families — without killing themselves with drugs and alcohol.
Whitney Houston had a great voice . . . in the 1980s and early 1990s.
She killed that voice by abusing herself.  She tried to make something of a come-back in 2009.  But anyone who heard her performances knew her voice was gone — not even a trace there of what it was.  Her vocal chords destroyed by drugs, alcohol, smoking, and whatever else she was doing.
Too bad. But kinda predictable, don't you think?
Here was Whitney Houston's great rendition of our National Anthem at the 1991 Super Bowl — won by my New York Giants . . .
Here was Whitney Houston performing the theme song for "The Body Guard":
So her talent was not completely wasted.  Some of her work will live on, probably for quite a while. But she could have, should have, achieved so much more with her amazing talent.
I'm getting pretty fed up with all these national tributes to celebrities who kill themselves. She's a disgrace for wasting the talent and fairy tale life God gave her.
This is the theme Shakespeare wrote about all the time. King Lear had it all too — but squandered it on stupidity.
Murray says America has gotten pretty soft, that most of today's Americans would not have have fared well in frontier days. We're always looking for someone else to take care of us, he says. We need to take care of ourselves.
THE HILL: Actor Bill Murray on Friday said he believes Americans need to be more personally responsible for their well-being.
"I think we ought to be personally responsible," he said on CNBC's "Squawk Box" Friday morning. "I think if you can take care of yourself, and then maybe try to take care of someone else, that's sort of how you're supposed to live.
"It's not a question of asking other people for help or being rescued or anything like that," he continued. "I think we've sort of gotten used to someone looking out for us, and I don't think any other person is necessarily going to be counted on to look out for us.
"I think there's only so many people that can take care of themselves, and can take care of other people. And the rest of the people … they're useful in terms of compost for the whole planet, you know."
Murray said the United States is a "pioneer country," but that many seen to forget the discipline early Americans needed to have just to survive.
"Occasionally, it seeps in that they came in wagons from Illinois to Oregon or whatever. That they came in wagons and the wheels broke."
He said this image leads to thoughts such as, " 'Gee, that must have been hard for those women to push that wagon up that mountain.'
"And that's what they had to do," he said. "There was no option but to do it yourself, to have your own responsibility."
Didn't Williams make millions of dollars from Tiger over the years as his caddie?
Pretty good work if you can get it
ESPN: Steve Williams, who lashed out at Tiger Woods this summer after Woods fired him as his caddie, took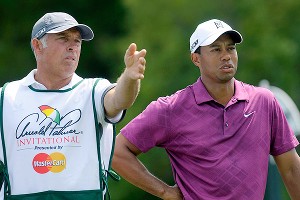 another shot at his former boss on Friday when asked for an explanation for his high-profile celebration after winning with Australian golfer Adam Scott.
"It was my aim to shove it up that black arse—-," Williams said at a caddie awards dinner, according to British newspapers that reported on the event held in Shanghai in conjunction with the HSBC Champions.
According to the Daily Mail and the Telegraph, Williams was receiving a tongue-in-cheek award for "celebration of the year" after gloating about his victory with Scott at the WGC Bridgestone Invitational in August.
Williams apologized on his website Friday.
Pretty dumb. Not much of a role model, he.
CBS TAMPA: It only took seven hours — and one tree leap — for Michael Lohan to get arrested again.
Tampa police said Lohan, 51, launched himself into a tree from his third-floor balcony when police came to investigate claims that he violated terms of his release from jail hours before.
Just before 1:00 a.m., Lohan's girlfriend Kate Major, 28, called police to report he was harassing her with constant phone calls. On Tuesday, Lohan was charged with battering Major, and terms of his release from jail Wednesday included that he stay away.
All right, now I'm not going to think so poorly of Linday any more.
With role models like this, what do you expect?
Of course, she's going to be massively messed up.
In light of this upbringing, you have to give her credit for getting as far as she did.
Let's hope she soon wakes up, smells the coffee, and gets her life on track. She is a reasonably decent actress.
A FEW DAYS EARLIER: Lindsay Lohan probation revoked. Back to jail. Gets morgue duty.
ABC LOCAL: Troubled actress Lindsay Lohan was led from the court in handcuffs on Wednesday after a judge revoked her probation.
The 25-year-old is free after posting $100,000 bail, but this could ultimately result in her going back to jail.
Lohan arrived in court for what was supposed to be a routine progress report, but minutes into the court session, Los Angeles Superior Court Judge Stephanie Sautner was not pleased with Lohan's progress.
"Ms. Lohan's actions deliberately made it impossible for her to perform her sentence at the downtown Women's Center. Probation as you know, as the prosecutor knows, and has always been my view, is a gift. And there's something called looking a gift horse in the mouth," Sautner said.
Lohan had been ordered to 360 hours of community service at a downtown women's shelter, and another 120 hours at the county morgue.
Liberals are really going to hate this news
TORONTO SUN: John Lennon felt a little embarrassed by his former radicalism, according to his
last personal assistant.
Fred Seaman worked alongside the music legend from 1979 to Lennon's death at the end of 1980 and he reveals the former Beatle was a Ronald Reagan fan who enjoyed arguing with left-wing radicals who reminded him of his former self.
In new documentary Beatles Stories, Seaman tells filmmaker Seth Swirsky Lennon wasn't the peace-loving militant fans thought he was while he was his assistant.
He says, "John, basically, made it very clear that if he were an American he would vote for Reagan because he was really sour on (Democrat) Jimmy Carter.
"He'd met Reagan back, I think, in the 70s at some sporting event… Reagan was the guy who had ordered the National Guard, I believe, to go after the young (peace) demonstrators in Berkeley, so I think that John maybe forgot about that… He did express support for Reagan, which shocked me.
NBC NEWS: The invitation of rapper Common to the White House this week is drawing the ire of the union representing New Jersey state police.
While even casual hip-hop fans wouldn't characterize him as a controversial rapper, Common found himself under the microscope after First Lady Michelle Obama invited him to the White House for an arts event. In question: the lyrics to "A Song for Assata," about convicted cop-killer and former Black Panther Assata Shakur.
FOX News and Sarah Palin condemned the decision after the Daily Caller published some of Common's lyrics, including some that criticize former President George W. Bush.
NEW YORK POST: Troubled starlet Lindsay Lohan is expected to plead no contest tomorrow to a
misdemeanor theft charge, according to a new report.
Lohan's lawyer Shawn Holley will appear before Judge Stephanie Sautner to enter the plea for walking out of an LA jewelry store with a stolen $2,500 necklace around her neck, TMZ.com reported today.
Lohan will not be present, the site reported.
As a result, Lohan can serve the sentence with an electronic monitoring device at home, rather than do time behind bars.
Lohan, 24, has already been sentenced to 120 days in jail and 480 hours of community service for violating her probation on a 2007 DUI case.
By Ben Hart
I had a very strange experience involving Donald Trump in the early 1990s at the top of Aspen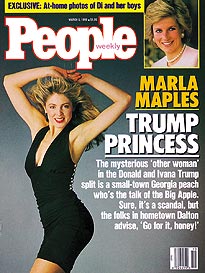 Mountain (also known as Ajax Mountain).
Not sure exactly what year it was, possibly 1992.
We used to go to Aspen just about every winter to ski. I still try to get back there as often as I can.
So here's what happened . . .
I came  out of the lodge at the top of the mountain,went to where my skis were in the racks, grabbed them, and started putting then on.
It so happened that Donald Trump and Marla Maples were right there at the same rack putting on their skis.
They were a couple at that time.
Marla was clearly a novice skier and was having trouble putting her skis on.
The snow and ice was caked on the soles of her ski boots.
So she couldn't get the bindings to clamp down properly over the ridges on the boots where the bindings are supposed to clamp down.
It was snowing and windy. In fact, the snow was mostly blowing sideways.
She had fallen over into the snow a couple of times while trying to knock the snow and ice off the soles of her boots with her hand and point on her ski pole.
She was on the verge of tears.
Meanwhile, The Donald was not the least bit helpful. In fact, he was constantly yelling at her to hurry up.
Well, she couldn't hurry up. She was a beginning skier. Looked to me like she hadn't skied much at all.
So The Donald just kept yelling at her to hurry up.
Then, after a few more minutes,  he mumbled something and said something like "to hell with it," skied off . . . and left her there to fend for herself.
Marla was is tears.
She clearly had no idea how to get down the mountain.  She couldn't even get her skis on.
The Donald was now gone.
From what I saw (before he disappeared into the snow storm), The Donald wasn't much of a skier either.
But he thought he was great.
So I took my skis off and went over to help Marla get the ice off the soles of her boots and put her skis on.
She asked if maybe it would be a better idea to just take the Gondola (ski lift) back down the
mountain.
I said "No, you have to learn to ski sometime.  Now's as good a time as any. There's an easy trail over here. I'll take you down."
She really could not ski at all when we first started out, falling every few feet or so.
It took us about an hour to get down the mountain.
By at the end of the run, she was skiing pretty decently.
She also was a very nice person.
But the point of all this is . . .
Where was The Donald?
He just left her at the top of Aspen Mountain to fend for herself.
Altitude: About 11,000 feet. Blinding snow storm.
She was a rank beginner. She could have been badly hurt up there by herself.
He didn't give a wit what happened to her up there.  He was petulant. He was impatient.  He was not a good guy at all.
Could he not have at least hired an instructor to come along to help her?
He could certainly afford it.
I really could not believe what I saw that day.
Is this the guy you want as President of the United States?
Is this the guy you want to represent the Republican Party?
Is this the guy you want to be the face of conservatism?
He's not even a conservative.
For example, he supported universal health care, as in the system they have in Canada — in other words, Socialized Medicine.
I do like the fact that he's prodding Obama on the birther issue.  Kudos on that front for The Donald.
But more than that is required for a POTUS.
Don't get me wrong.  If the choice is Trump or Obama for POTUS, I'd vote for Trump . . . because Obama is a proven disaster.
Trump does seem to be the only one who has the guts to tackle Obama head on.  So I'll also give him credit for that.  He's saying mostly the right things at the moment.
And there's always the possibility that he's changed since then — that he's no longer the schmuck I remember running into at the top of Aspen mountain in the early 1990s.
Here's an old photo of me from my days when I was a serious ski racer. This is still what I like to do for fun.