Archive for the 'Fun Stuff' Category
After reading this letter and rolling on the floor laughing for a while, I would give strong consideration to bringing this kid on board. Confidence, determination, and work-ethic are attributes you want in a young employee. I'd also sit the kid down and show him how to write a letter that communicates much the same message without quite so much hubris.
Here's his letter:
His letter is also full of punctuation and grammatical errors, plus some non sequiturs and logical fallacies. So these flubs would likely disqualify him from getting an important job. He needs a copy editor. Maybe worst of all, his letter is addressed to J.P. Morgan, but he promises to work hard for Morgan Stanley. Still, you have to like his eagerness.
BUSINESS INSIDER: As summer analyst recruiting season continues and superdays near, Wall Street has been having a laugh with one New York University applicant who, to say the least, took a surprisingly dogged approach with his cover letter.
He wrote:
"I am unequivocally the most unflaggingly hard worker I know, and I love self-improvement. I have always felt that my time should be spent wisely, so I continuously challenge myself … I decided to redouble my effort by placing out of two classes, taking two honors classes, and holding two part-time jobs. That semester I achieved a 3.93, and in the same time I managed to bench double my bodyweight and do 35 pull-ups."
Since Thursday, February 2, when a Bank of America Merrill Lynch director forwarded the cover letter out to his entire team, offering drinks "to the first analyst to concisely summarize everything that is wrong with" the note, it has passed through more than a dozen firms.
Already investment banking and accounting teams at Goldman Sachs, Morgan Stanley, Nomura, Citi, Deutsche Bank, PricewaterhouseCoopers, KPMG, Wells Fargo, Keefe, Bruyette & Woods, Perella Weinberg Partners, and Barclays Capital have read the note, along with the student's relatively robust resume.
The letter, which read with perhaps a tad much hubris, comes at a time when summer recruiting is at its peak and anxiety among the nation's junior class is high. Resume drop days, or the deadline when resumes must be received, have largely passed, and students are now in the throes of first round interviews and superdays.
Tyler's performance at today's AFC Championship game will certainly be remembered as one of the worst National Anthem renditions of all time. And he's judging the singing performances of others on American Idol?
But it wasn't nearly as bad as Roseanne Barr's rendition in 1990 because at least Tyler tried to do a decent job and wasn't mocking our National Anthem:
Tyler's National Anthem fail was really not his fault. Blame the NFL program organizers. Tyler is a legendary rocker. He needs a rock band behind him. Hitting those high notes is not his thing. I'm still a big fan of Tyler and Aerosmith. He seems like a really nice guy.
Roseanne, on the other hand, was intentionally mocking America with her version.
Didn't Williams make millions of dollars from Tiger over the years as his caddie?
Pretty good work if you can get it
ESPN: Steve Williams, who lashed out at Tiger Woods this summer after Woods fired him as his caddie, took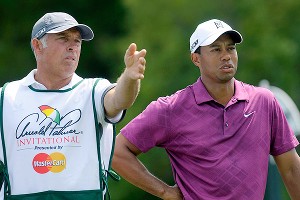 another shot at his former boss on Friday when asked for an explanation for his high-profile celebration after winning with Australian golfer Adam Scott.
"It was my aim to shove it up that black arse—-," Williams said at a caddie awards dinner, according to British newspapers that reported on the event held in Shanghai in conjunction with the HSBC Champions.
According to the Daily Mail and the Telegraph, Williams was receiving a tongue-in-cheek award for "celebration of the year" after gloating about his victory with Scott at the WGC Bridgestone Invitational in August.
Williams apologized on his website Friday.
Here's what Lake Michigan Looks Like Today – October 19

Get's kinda crazy on the lake. You can see why the Edmund Fitzgerald sank out there — a 750 foot cargo ship.
VIDEO: Wanda and Me on Lake Michigan in a Little Boat Six Weeks Ago. Funny Stuff Here:
And here's what it's going to be like soon here in Chicago on Lake Shore Drive
FLASHBACK: Blizzard of February 2011: 1,500 cars abandoned on Lake Shore Drive. 24-foot waves on Lake Michigan.
In other words, awesome
ASSOCIATED PRESS: Lindsey Wilson was on Lake Shore Drive, but she couldn't tell where. It was dark, and
the snow swirling around the stranded bus made it impossible to see anything but the closest cars.
There was talk among her fellow commuters of 25-foot waves washing up from Lake Michigan and about when the bus might get going, but nobody knew anything — not the driver, not the emergency operators passengers were calling, and not the shivering motorists climbing aboard to keep warm after firefighters pulled them from their cars.
When a group of passengers decided enough was enough and started to walk, she joined them.
"I got 100 feet, everything was an orange hue, there was snow in my face, I couldn't see anything, I turned around and couldn't see the bus and I thought I was going to die," she said Wednesday morning.
Wilson, 26, was among hundreds of people in at least 1,500 vehicles who found themselves trapped on Chicago's most famous stretch of road for as long as 12 hours Tuesday night and Wednesday morning during one of the worst snow storms in the city's history. The situation was among the worst impacts from the winter storm that carved a frigid path along a 2,000-mile stretch across the eastern U.S.
Here's an illustrative video of what it can be like in Chicago in the Winter
This is why we like to go to Florida in the Winter.
Demias Jimerson says that's okay with him. Says his #1 priority is God. His #2 priority is getting good grades.
Here's a photo that's going around the Internet of Barack Obama apparently tongue kissing Britain's Prime Minister David Cameron.
Turns out, though, this photo is almost certainly a fake >>>
I'm pretty decent at Photoshop myself and this is good work. It almost looks real.  Someone spent a lot of time on this.
The source for this photo is a Christian blog, no less, something called Christ Wire.  It's also on Buzz Feed and has been circulating around Facebook and Twitter.
I'm certainly no fan of Obama. But I really don't think he's gay.  And even if he were, he would not let himself be photographed in this position.
There's lots not to like about Obama, but he's no Weiner.
The problem with Obama is the Marxism, not this.