Archive for the 'Japan – Tsunami – Earthquake' Category
Probably not the right focus if you've already got $50 BILLION.
DANIEL SOLIN-DAILY FINANCE: It's pretty daunting to take on the Oracle of Omaha. Warren Buffett, the
billionaire investor and chairman of Berkshire Hathaway (BRK.A), recently stated that the extraordinary events in Japan offer a "buying opportunity." Buffett believes the massive earthquake could prompt a new bout of stock buying.
Is he right? Should you overweight your portfolio with Japanese stocks and take advantage of this "opportunity." I don't think so.
A real "buying opportunity" exists when stocks are mispriced. Six billion investors are looking at the price of Japanese stocks. They know every public fact about these stocks. They are well aware of the devastation and uncertainty caused by the earthquake and the instability of the nuclear reactors in Japan. They also understand the rebuilding and government stimulus that is likely to follow in the ensuing months and years.
The collective wisdom of these traders has determined that the current price of Japanese stocks is a fair price, taking into consideration all of this news.
NPR: The first radiation measurements from within a 37-mile radius of the disabled
Fukushima Dai-ichi power plant do not reveal any immediate health threat — and perhaps not even any health problems measurable decades from now, if levels stay where they are.
This may surprise people who assume that radioactivity in the vicinity of the plant must be dangerous, since radiation levels inside the plant are so high that workers can stay outside for only minutes at a time.
"This is very important information," says Hiroshima-based researcher Evan Douple, who has been studying the health of atomic bomb survivors for decades.
LA TIMES: U.S. financial markets seem to think they know how Japan's nuclear-reactor crisis will be resolved: with Armageddon avoided.
A rush for safety early in the week, out of stocks and into U.S. Treasury bonds, began to reverse by week's end. The Dow Jones industrial average rallied 161 points Thursday and 83 points Friday, to finish at 11,858.52.
The Dow still gave up 1.5% for the week, but that relatively small loss suggests that most investors don't expect the nightmare scenario to unfold in Japan — meaning a catastrophic meltdown of one or more nuclear reactors, releasing deadly radiation over a wide area and triggering panic around the globe.
U.K. DAILY MAIL: The terrible toll of Japan's double disaster became clearer today as it emerged as many as 25,000 people could be dead.
As rescue crews trawled through mile after mile of tsunami-stricken wasteland, officials from the coastal town of Ishinomaki confirmed that 10,000 of their citizens were missing.
The unimaginable figure is the same given as in the town of Minamisanriku, also in Miyagi state, which lost around half its population when it was razed to the ground by the 20 foot high wall of water.
Obama family all set to enjoy the sights in sun-dappled Rio
FORBES: President Barack Obama will take his first official trip to Brazil this weekend where he will speak in the

popular Cinelandia Square in downtown Rio de Janeiro. Access, of course, will be tightly restricted and security measures so secretive that not even the Embassy or US Consulate in Rio know exactly how it's all going to go down. Obama's speech will be free and open to the public and take place around 15:00 local time (14:00 EST). Access to the square will begin at 11:30, and is sure to draw a crowd. Obama is popular in Brazil. One politician seeking office in Rio actually changed his name to Barack Obama in 2008 to solicit votes. He didn't win.
And here's the fun-loving Obama making his NCAA B-Ball picks before jetting to Rio
Don't be fooled. Here are the facts from the Heritage Foundation
HERITAGE FOUNDATION: The true scope of the devastation in Japan caused by Friday's earthquake and tsunami are still unknown. While the official death toll has surpassed 1,000, the police chief of the Miyagi Prefecture said Sunday there is "no question" that at least 10,000 people have died in just his region alone. Japan has mobilized 100,000 troops for rescue missions, and at least three U.S. Navy ships of the USS Ronald Reagan strike group are assisting in relief efforts. Yet, despite the gravity of the situation, some on the left in this country are already politicizing the disaster to score points against the nuclear power industry.
Representative Edward Markey (D–MA) released a statement Saturday comparing the current situation in Japan to Chernobyl and called on the Obama Administration to impose a moratorium on all new nuclear reactors. What is happening in Japan right now is nothing like Chernobyl, and imposing a moratorium on the nuclear industry would be as big a policy blunder as the Obama Administration's offshore drilling moratorium after the Deepwater Horizon explosion.
The cable news networks and newspapers are filled with frightening headlines like "Radioactive Releases in Japan Could Last Months" that will aid Markey's anti-nuclear crusade. But the reality is far removed from the hype. Here are some cold hard facts to keep in mind as news continues to come in from Japan:
The low levels of radiation currently being released will likely have no biological or environmental impact. Humans are constantly exposed to background radiation that likely exceeds that being released.
The Chernobyl disaster was caused by an inherent design problem and communist operator error that is not present at any of the nuclear plants in Japan.
There were no health impacts from any of the radiation exposure at Three Mile Island.
The Nuclear Regulatory Commission does not need to regulate more in response to this. It already regulates enough.
The plant in trouble in Japan is over 40 years old. Today's designs are far more advanced.
No one has ever been injured, much less killed, as a result of commercial nuclear power in the U.S.
The danger that Japanese engineers are currently grappling with should not be minimized: what is happening right now with Japan's reactors could lead to a meltdown and significant release of radiation. You could also get hit by a car on your way to work today. But that is not what is likely to occur. What is likely to occur is that Japanese officials will continue to operate professionally and oversee the order cooling of these plants.
Events unfolding in Japan ought to have no impact on the current U.S. reactor fleet or future plans to expand that fleet. The Nuclear Regulatory Commission does not need to regulate more in response to this. We need to remember that nuke plants are privately owned and that their owners have every incentive to maintain safe operations. The government's role should simply be to set and enforce fair, efficient, and effective safety and environmental standards and allow private industry to meet them. Anti-nuke crusaders like Markey make this balance impossible. If the risk of nuclear power is too great, investors will put their money somewhere else.
SOURCE: Heritage Foundation >>>
This amateur video shows a close-up view of just how powerful this Tsunami is. The ships, boats, cars and trucks are tossed around like toys. Houses and buildings are crushed like match sticks.
Most people think of a Tsunami as a giant wave — like what we saw in the Poseidon Adventure movie. But that's not right. A Tsunami is really a giant surge. It's as if the entire ocean just suddenly rises 10 in that area. So the weight of all that water is enormous.
So when you hear news reports that the wave height of a Tsunami is two meters, that's not measuring the height of the surge. It's measuring the height of the wave on top of the surge of water. This is why the videos of the Tsunami coming across the ocean don't look all that impressive . . . until the Tsunami hits land.
U.K. TELEGRAPH: The landscape of parts of Japan looks like the aftermath
of  World War Two; no industrialised country since then has suffered such a death toll.
The one tiny, tiny consolation is the extent to which it shows how humanity can rally round in times of adversity, with heroic British rescue teams joining colleagues from the US and elsewhere to fly out. And solidarity seems especially strong in Japan itself. Perhaps even more impressive than Japan's technological power is its social strength, with supermarkets cutting prices and vending machine owners giving out free drinks as people work together to survive. Most noticeably of all, there has been no looting, and I'm not the only one curious about this.
This is quite unusual among human cultures, and it's unlikely it would be the case in Britain. During the 2007 floods in the West Country abandoned cars were broken into and free packs of bottled water were stolen. There was looting in Chile after the earthquake last year – so much so that troops were sent in; in New Orleans, Hurricane Katrina saw looting on a shocking scale.
ASSOCIATED PRESS: A tide of bodies washed up along Japan's coastline, crematoriums were overwhelmed
and rescue workers ran out of body bags as the nation faced the grim reality of its mounting humanitarian, economic and nuclear crisis Monday after a calamitous tsunami.
Millions of people were facing a fourth night without water, food or heating in near-freezing temperatures in the devastated northeast. Meanwhile, a third reactor at a nuclear power plant lost its cooling capacity, raising fears of a meltdown, while the stock market plunged over the likelihood of huge losses by Japanese industries including big names such as Toyota and Honda.
A Japanese police official said 1,000 washed up bodies were found scattered Monday across the coastline of Miyagi prefecture. The official declined to be named, citing department policy.
Anderson Cooper reacts to news. Asks: "Should I get out of here?"
U.K. GUARDIAN: A 60-year-old man has been found on the roof of his floating house nearly 10 miles out at sea, two days after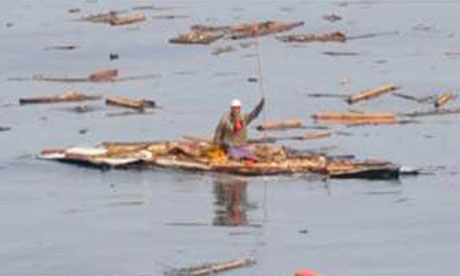 the tsunami that devastated the north-east coast of Japan.
Hiromitsu Shinkawa must have resigned himself to his fate when he was swept away by the retreating tsunami that roared ashore in his home town of Minami Soma in Fukushima prefecture.
As the wave approached, Shinkawa took the fateful decision to return home to collect belongings. Minutes later he was out at sea clinging to a piece of the roof from his own home.
Incredibly, he was spotted by a maritime self-defence force destroyer taking part in the rescue effort as he clung to the wreckage with one hand and waved a self-made red flag with the other. He had been at sea for two days.