Posts Tagged 'conservative bloggers'
I'm thrilled when Glenn and Rush use my stuff. I don't care if they credit me or not. I just want the info I uncover to get as wide a circulation as possible.
Some conservative bloggers are accusing Glenn Beck of stealing their content and ideas without attribution.
Andrew Brietbart made this charge in an interview with the Daily Caller. Breitbart says Beck stole his "Truth Has No Agenda Slogan."
Is this really such a brilliant tag line?
According to the Daily Caller article, Beck's team has used videos from the Media Research Center, Rebel Pundit, and a chart created by Liberty Chick without attribution.
Boy, if I got this upset at all the people who have used my stuff without attribution, I'd have to give up writing.
Pajamas Media CEO Roger Simon is especially peeved.  The Daily Caller quotes him as saying: "It is not a question of just doing it right the majority of the time. It is a question of doing it right always," Simon said. "Doris Kearns Goodwin is forever a fraud in my estimation because she has been caught plagiarizing once. If you rob a bank once, you still robbed a bank."
Wooah!
Now that's an exacting standard.
"Doing it right always"?
Who does anything right "always"?
I know I don't. Besides, Glenn's not robbing any banks.
Take a chill pill everyone.  Your stuff's really not all that wondrous. We're not talking about stealing Einstein's Theory of Relativity here.
For what it's worth, Glenn Beck has used some of my material and has credited me as the source.
Also, the standards for an academic are more stringent than for a journalist, and certainly more stringent than for a broadcaster.  Doris Kearns Goodwin is a famous Harvard historian.
By the way, her proven plagiarism doesn't seem to have hurt her career much.
But Glenn Beck is a popularizer. He's a broadcaster (an enormously talented one), not a Pulitzer Prize winning Harvard historian.
Big difference.
Every Thanksgiving, Rush Limbaugh reads lengthy paraphrased passages on the radio pulled from my book, Faith & Freedom, without crediting me.
The paraphrased passages are about the Pilgrims landing at Plymouth Rock in 1620, the first Thanksgiving, their faith in God, and how they learned why capitalism works better than socialism.
The quotes and facts Rush cites all come from those passages in Faith & Freedom. The wording is very close to the same as mine.
Actually, the passages are from one of his books that borrow heavily from my book. My book is mentioned in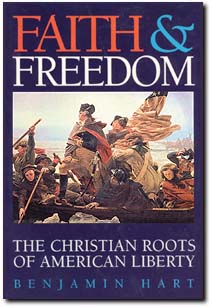 the footnote in his book. So he did credit me there.
But it sure would have helped book sales for me if Rush would have mentioned my book Faith Freedom by name every Thanksgiving.
Think how many books I could have sold if Rush would just do that!
Oh well.  Those are the breaks.
Some have said "Ben, you should have your lawyer fire of a tersely worded letter to Rush."
Why would I want to do that?
I love Rush.
And I like the fact that Rush is reading text borrowed from my book on the air, even though without attribution.
Why would I want Rush to stop doing this?
After all, the entire purpose of my writing this book was to get this information out there. Rush is helping me do that by, essentially, reading my book on the air every Thanksgiving.
Rush has 20,000,000 listeners.
I doubt Rush even knows he's using my material on the radio without attribution.
Like Glenn Beck, he has a team of researchers who find this stuff for him.  Most likely, one of his researchers grabbed the text, paraphrased it, and handed it to him.
I also understand the broadcast medium is different from print media.  Imagine how boring your broadcast would be if you meticulously credited every source in the midst of your commentary.
Someone once said: "There's no limit to what you can accomplish if you don't care who gets the credit."
I believe Reagan said that, but I'm sure he got it from someone else.
The truth is there are very few truly original ideas. We are all building on the ideas that others before us have had. I borrowed my ideas for Faith & Freedom largely from Max Weber's classic work The Protestant Ethic and the Spirit of Capitalism.
My goal is to get these ideas out there. I don't care who takes credit for them. If someone wants to take something I've written and spread it around, great. If they forget to mention me by name, oh well.
No big deal. I'd be just as happy if no one knows my name. I have no interest in being famous.
Soon after my book came out, almost every politician on the conservative side started using the phrase Faith & Freedom. Heck, there's even a Faith & Freedom Coalition now.
Should I be upset that this phrase is being used without attribution?
I'm just pleased that my book contributed to people seeing the connection between Faith & Freedom and that I had a role in inserting the phrase into the modern political lexicon.
The phrase does have good alliteration . . . which is why I chose it for the title of my book.
Had anyone used the phrase before me?  I'm sure they have. I can't believe I was the first to think of it.
I think these bloggers are way too sensitive on this issue of Glenn Beck borrowing material from others without giving them the proper credit.  He puts out an enormous amount of material — three hours of radio every day, his Blaze website, his erstwhile show on FOX.
He has a big research team helping him put his shows together.  His researchers are under pressure and probably grab stuff they find and have neglected, on occasion, to give the source the proper credit.
It's not like these videos and blog posts are works of art.  It's not like Glenn has stolen Hamlet and called it his own.
Liberty Chick is not Shakespeare.
Rebel Pundit is not Dante.
Rebel Pundit might have the best case here for getting mildly annoyed.  He says Glenn used one of Rebel's videos on FOX, but then deliberately blurred out the logo of Rebel Pundit's website.
Okay, that's not so good, if true. Possible point here for Rebel Pundit.
Like all of us in the news and comment biz, Rush, Glenn, Sean, Mark and the rest of the media are just frantically grabbing the most interesting info they can find to cobble together an interesting daily show.
Anderson Cooper of CNN actually did a full story on one of my blog posts the other day without mentioning me or this site — just referring to me as "a conservative blogger" — as in "a conservative blogger claims . . ."
But who really cares?
If today's newspaper is tomorrow's bird cage liner, what does that make today's blog post?
Fellow bloggers, stop taking yourselves so seriously.  Pull that stick out of your ______.