This is why Western Civilization is better, much better. And it's why we must defend Western Civilization against these sadistic savages.
GLOBAL POST: An analysis of video obtained by GlobalPost from a rebel fighter who recorded the moment when Col. Muammar Gaddafi was first captured confirms that another rebel fighter, whose identity is unknown, sodomized the former leader as he was being dragged from the drainpipe where he had taken cover.
A frame by frame analysis of this exclusive GlobalPost video clearly shows the rebel trying to insert some kind of stick or knife into Gaddafi's rear end.
Notice how they are yelling "Allah Akbar!" while engaging in this barbarism. So they are doing this in the name of their sicko, bloodthirsty religion.
Here's the frame by frame analysis of Gaddafi being sodomize with a stick or knife, probably a knife. Let's hope these savages are tried for war crimes.
Also, do you remember how Hillary Clinton joked about this sadistic killing?: "We came, we saw, he died."
Hillary thought this was just hilarious. Yes, Gaddafi was a brutal dictator who killed many. He deserved justice, possibly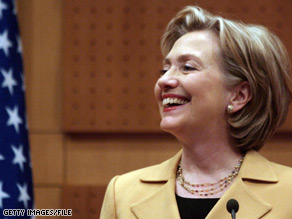 ultimimately death, after a trial. But what civilized person can possibly think this is humorous?
She should immediately apologize and resign as Secretary of State.
What a sickening embarrassment she is.
This is no foreign policy victory for the U.S.
It's another victory for barbarism.