Posts Tagged 'John Boehner'
That fact should tell you all you need to know about this farce. He's lost the Tea Party.
THE HILL: The debt-limit deal announced on Sunday night is expected to attract more than 60 votes in the Senate, but its outlook in the House is much more cloudy.
Speaker John Boehner (R-Ohio) will need Democratic votes to clear the bill through the lower chamber. How many remains unclear.
GLENN BECK: Don't be fooled. We've just been betrayed by Washington.
A deal on the debt ceiling is near and Washington still hasn't gotten serious about the fundamentals. It hasn't gotten serious about default. It certainly hasn't gotten serious about the future. When Harry Reid hails a "bipartisan compromise" you know we're doomed.
Republicans and Democrats have just negotiated away the future of our children behind closed doors. The big compromise on Capitol Hill features elaborate triggers, tranches, Hornswogglers, Snozzwangers, Super Duper Commissions that will make the Snozzberries taste like Snozeberries, and a whole bunch of other convoluted gibberish that will, no doubt, come with loopholes and create entire new bureaucracies. What it doesn't do is fix the problem.
PAUL BEDARD-U.S. NEWS: If House Speaker John Boehner or his senior leadership team thought they had the support of the Tea Party movement, they better think again. An internal poll of the largest group in the movement, the Tea Party Patriots, found that they are dissatisfied with the House leaders, Boehner in particular, and simply can't stand President Obama.
Co-Director Jenny Beth Martin told Whispers bluntly: "We're really not satisfied with any of them." [Check out editorial cartoons about the Tea Party.]
She said that the Tea Party Patriots on Tuesday surveyed "tens of thousands" of their members in 3,500 affiliates about the current leadership and found these stunning results:
–81.5 percent are not satisfied with the House GOP leadership.
–74.1 percent, asked if they want a new House speaker, said yes or maybe.
–71.7 percent are not satisfied with the performance of the House.
–97.6 percent are not satisfied with the performance of the Senate.
–98.8 percent are not satisfied with Obama's performance.
–Whopping majorities believe that their House representative and senators are more concerned with party politics than "what's best for America."
–62.8 percent trust neither party to fix the debt problem; 36.4 percent trust the GOP to fix it; less than one percent trust the Democrats.
Worse for those like Boehner and Obama trying to cut a debt ceiling increase, most do not want a deal unless it includes massive spending cuts, likely over the $4 trillion figure earlier under negotiation.
On Boehner, Martin and Co-Director Mark Meckler, who both earlier today met with reporters at a Christian Science Monitor breakfast, said the movement is worried that he is giving in too much to Obama. "He's not proven that he means to cut anything," said Martin. [See political cartoons about the budget and deficit.]
Meckler said that while the movement wants lawmakers to "stand firm" and not raise the debt ceiling, it could be done if major cuts were included far and above what's been proposed, though he wouldn't set a bottom line. "If you want to raise the debt ceiling, prove to us you can make some cuts," he said. "Get real. They need to act like adults," he added of Congress.
But understand that these are not really spending cuts. They're slowdowns in spending increases.
WASHINGTON TIMES: With no debt deal done and both sides racing an Aug. 2 deadline, Democrats and Republicans on Sunday readied separate backup plans to try to raise the government's borrowing limit and cut spending.
House Speaker John A. Boehner, Ohio Republican, pitched his colleagues on a plan to raise the borrowing limit by about $1 trillion and match that with similar sized spending cuts — enough to last through the rest of the year, and leaving for later the heavy lifting on taxes and bigger spending items.
Meanwhile, Senate Majority Leader Harry Reid said he is working on a plan to raise the debt limit by $2.7 trillion, coupled with an equal reduction in projected future spending. In a concession to Republicans, he said that plan would not include tax increases, but that the new debt level would last through the 2012 elections.
Basically, he just needed a break after talking hour after hour to a wall.
How many ways can you say "No tax increases"? How many ways can you say "Cut spending"? How many times can you say "The plan passed by the House is the only plan anyone has produced"? How many ways can you say "What's your plan, Mr. President?"
Boehner is "Captain El Foldo." The only question is: When does he fold?
I just can't figure out why we are negotiating with Obama at all. If we just let federal spending hit the debt ceiling and not allow one more penny of debt, we get an immediate 43% reduction in the size of government. What's wrong with that?
We then pay the interest on the $14.5 TRILLION debt. We can then pay for about half of the rest of the government.
So the Feds would then have to prioritize spending.
The Treasury takes in about $200 BILLION per month in tax revenue.
So in August, we could pay all interest on the debt, all Social Security checks, all Medicare payments, all of our soldiers, all veterans benefits, and still have about $40 BILLION left over to spread around to other stuff — perhaps to fund the FBI, law enforcement, courts and Federal prisons.
Most law enforcement happens at the local level anyway. We really don't need much Federal law enforcement. Hard to imagine we would notice if the federal government was about half the size it is now. Let's make it happen . . . NOW.
How about this for a bumper sticker: "$2.6 TRILLION Is Enough".
You'll just have to make do with that.
We need a leader, and it's not John Boehner. Every time I see Boehner on on TV defending our position, I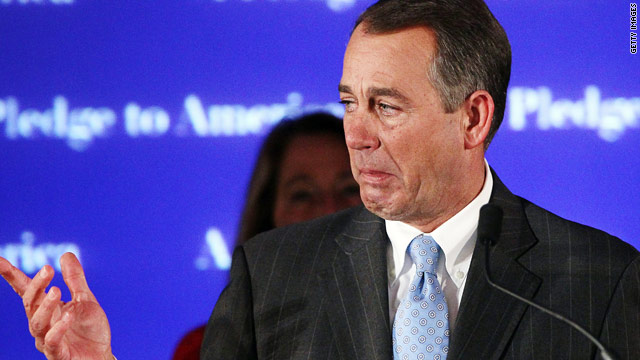 wonder if he's going to break down and cry. We can't fight a war for the soul of America this way. We can't fight Obama effectively this way.
Can you imagine Eisenhower crying all the time, much less Generals MacArthur or Patton.
Hitler would not have been impressed with a weeping FDR.
Ed Muskie lost the Democratic Party's nomination in 1972 because people thought he "might" be crying after an especially brutal editorial by the late William Loeb in the Manchester Union leader leading up to the New Hampshire primary.
Muskie's people noted that it was snowing and said what looked like tears were actually snow flakes melting on Muskie's face.
The fact is, people don't want weepers to be their leaders. It's time for Boehner to step aside. He's a good man, but not leader.
Why not Congressman Eric Cantor or Jim Jordan for Speaker?
Between the two, I like Jordan better. But Cantor is far better than Boehner.
The Tea Party folks don't trust Boehner. Not that they don't trust that he believes the right things. We just don't believe he'll fight very hard for them.  El Foldo is what you get when Boehner is negotiating on your
behalf.
Why? Because he just wants to get along.
Cantor is really the de facto Speaker anyway.
Boehner always has to check with Cantor to find out what will fly with the Tea Party. Boehner wants to know the point at which he can sellout and not lose his Speakership.
Boehner is Captain El Foldo.
So might as well make Cantor Speaker.
WASHINGTON TIMES: Stepping up a simmering constitutional conflict, House
Speaker John A. Boehner warned President Obama on Tuesday that unless he gets authorization from Congress for his military deployment in Libya, he will be in violation of the War Powers Resolution.
In a letter sent Tuesday afternoon, Mr. Boehner, the top Republican in the constitutional chain of succession, said Mr. Obama must provide a clear justification for committing troops to Libya by Friday. Sunday marks the 90th day since the president notified Congress that U.S. troops had been committed to help enforce a no-fly zone over Libya, which is designed to protect the rebels fighting Col. Moammar Gadhafi's government.
REUTERS: A hard-won budget deal that was touted as the biggest domestic spending cut in U.S. history when it passed Congress last month will actually cause the government to spend $3.2 billion more in the short term, according to a new estimate released on Monday.
But the deal sets the government on track to spend $122 billion less over the next 10 years, the nonpartisan Congressional Budget Office said.
Boehner's a nice man with a tan and pink tie, but he was totally outwitted and outfoxed by Obama.
NATIONAL JOURNAL: A Congressional Budget Office analysis of the fiscal 2011 spending deal that Congress will vote on Thursday concludes that it would cut spending this year by less than one-tenth of what both Republicans or Democrats have claimed.
A comparison prepared by the CBO shows that the omnibus spending bill, advertised as containing some $38.5 billion in cuts, will only reduce federal outlays by $352 million below 2010 spending rates. The nonpartisan budget agency also projects that total outlays are actually some $3.3 billion more than in 2010, if emergency spending is included in the total.
The astonishing result, according to CBO, is the result of several factors: increases in spending, especially at the Defense Department; decisions to draw over half of the savings from recissions; and cuts to reserve funds and and money for mandatory-spending programs that might never have been spent.
Budget deal axes Obama 'czars' . . . who have already been axed.
ASSOCIATED PRESS: The [so-called] historic $38 billion in budget cuts resulting from at-times hostile bargaining between Congress and the Obama White House were accomplished in large part by pruning money left over from previous years, using accounting sleight of hand and going after programs President Barack Obama had targeted anyway.
Such moves permitted Obama to save favorite programs – Pell grants for poor college students, health research and "Race to the Top" aid for public schools, among others – from Republican knives, according to new details of the legislation released Tuesday morning.
And big holes in foreign aid and Environmental Protection Agency accounts were patched in large part. Republicans also gave up politically treacherous cuts to the Agriculture Department's food inspection program.
The details of the agreement reached late Friday night just ahead of a deadline for a partial government shutdown reveal a lot of one-time savings and cuts that officially "score" as cuts to pay for spending elsewhere, but often have little to no actual impact on the deficit.
As a result of the legerdemain, Obama was able to reverse many of the cuts passed by House Republicans in February when the chamber approved a bill slashing this year's budget by more than $60 billion. In doing so, the White House protected favorites like the Head Start early learning program, while maintaining the maximum Pell grant of $5,550 and funding for Obama's "Race to the Top" initiative that provides grants to better-performing schools.
So Mark Levin was right with his first take on the Budget Deal — calling it an 'historic scam'
Mark Levin is calling the the John Boehner, Barrack Obama, Harry Reid budget deal an 'historic scam." Says there aren't $38 Billion in cuts in spending between now and the end of the year.
Karl Rove is calling it a $78 Billion cut because it's $78 Billion less than Obama wanted. So if Obama wants $200 Billion more in spending, and we only give him $100 Billion more, is that a $100 Billion cut?
By Rove's logic, it is.
Levin is right. The more we look at this budget deal, the more it looks like an "historic scam."