Posts Tagged 'Michelle Obama'
She's on her third chief of staff and the head honcho of her anti-fat campaign has now quit.
POLITICO: Less than three years into the job, first lady Michelle Obama is on her third chief of staff and third social secretary. She is on her second communications director, the White House chief usher recently departed, and her press secretary's last day is Friday.
On Friday afternoon, the first lady's office announced that the executive director of Obama's signature campaign to fight childhood obesity also is leaving.
Read more here >>>

"My name is Barack Obama, of the Moneygall Obamas."
He sure looks Irish. Turns out his roots there consist of an 8th cousin in Moneygall.
No shout-outs so far for the Tornado victims in Joplin, Missouri
REUTERS: President Barack Obama declared solidarity between the United States and economically struggling Ireland
with a symbolic gulp of beer and a rousing speech, telling a huge Dublin crowd on Monday: "Your best days are still ahead."
Beginning a four-nation European tour with a celebration of his Irish roots, Obama came to Ireland as what one man called a "long-lost cousin."
Crowds packed the streets for both a stirring speech in Dublin and a visit to the tiny village of Moneygall, where an ancestor of Obama's lived before moving to the United States.
Michelle adopts windswept look
Says she's a big "Jedward" fan
And here's "Jedward" . . . It's a great look for Michelle.
Michelle appears to be going for the "Jedward" look.
Here's the mammoth Obama limo bottoming out on a speed bump
The First Family was then moved to a new limo. You would think the First Family would be in a car that could not be stopped by a routine speed bump. What's up with that?
Someone in the security detail will, no doubt, be in the hot seat over this.
NBC NEWS: The invitation of rapper Common to the White House this week is drawing the ire of the union representing New Jersey state police.
While even casual hip-hop fans wouldn't characterize him as a controversial rapper, Common found himself under the microscope after First Lady Michelle Obama invited him to the White House for an arts event. In question: the lyrics to "A Song for Assata," about convicted cop-killer and former Black Panther Assata Shakur.
FOX News and Sarah Palin condemned the decision after the Daily Caller published some of Common's lyrics, including some that criticize former President George W. Bush.
Sculptor Daniel Edwards has created a bare-chested sculpture of Michelle Obama.
One has to wonder what Michele thinks of this.
The sculpture is clearly intended as a compliment to Michele. It is quite flattering.
It shows her with a pearl-studded afro hairdoo, large hoop earings, and an American flag carved on her bare chest.
The work is titled: "Michelle Obama's Makeover for America."
The Leo Kesting Gallery in NYC (where the piece was unveiled) describes it this way:
"Michelle Obama's Makeover for America" presents an accessorized mannequin bust of Obama that foregoes the conventional pearl necklace, and provides for her a 'signature look' to take to Washington. "The goal is to create a look for Michelle Obama that eliminates excessive comparisons to Jackie Kennedy," said Edwards,"like supermodel Tyra Banks's photos in Harper's Bazaar, or the puzzling comment from CBS's Byron Pitts that recommended 'less Jackee, more Jackie O.'"
Cool!
No reports yet of  any invitations to Sculptor Edwards from the Obamas to come to the White House to
display and explain this work.
We can surmise from the Obamas' deafening silence about this exhibit that they're not amused.
I like it.
In fact, I'm a big fan of this sculpture.
It certainly looks a lot better than that bust of Winston Churchill the Obamas unceremoniously returned to England.
How do you think this sculpture compares to the real Michelle?
I'm not seeing a real close likeness myself. No doubt, the sculpture represents some kind of idealized image in the mind of the artist, Daniel Edwards (as Beatrice was to Dante). It's a stylized, Africanized image of Michelle.
Interesting that he chose to give her gigantic breasts. Those must be triple-Ds.
Just a guess. But most likely, Michelle's reaction to this work of art looked something like this . . .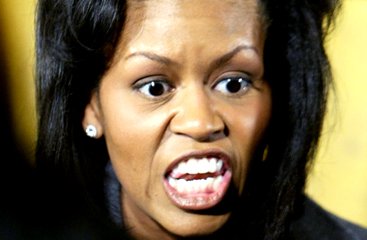 Michelle's never struck me as long on a sense of humor. But this sculpture could be quite a collector's item. Might be worth a lot of money someday.
Well done Daniel Edwards!
I wonder if he got a grant to do this from the National Endowment for the Arts.
This might be one instance when the Obamas demand the money be returned to taxpayers.
POP EATER: When talk show queen Oprah Winfrey announced she was publicly supporting
Barack Obama for president back in 2008, she shocked many TV insiders who had always thought it best for talk show hosts to keep their political views to themselves.
Now as the 2012 election process has officially begun, sources tell me this time around Oprah's support will be much more private.
"For 2012, much has changed for Oprah. She now has own cable channel called OWN that has been struggling to find an audience — she isn't going to do anything to alienate them," a TV insider tells me. "Unlike in 2008, when a drop in ratings didn't matter as much for the queen of TV, Oprah is now fighting every day to get people to tune into OWN."
One reason may be that Michelle reportedly hates Oprah.
SHOWBIZ SPY: Recent reports claimed Michelle has been telling her nearest and dearest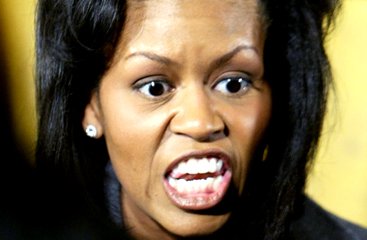 that she hopes nemesis Oprah Winfrey bombs when she launches her OWN network next year.
"Michelle hates Oprah," alleged one insider. "She's hoping she'll come crashing down to earth with her latest venture."
Michelle says she's going to get even. Also hates Oprah.
SHOWBIZ SPY: PRESIDENT Barack Obama and his wife Michelle are furious that they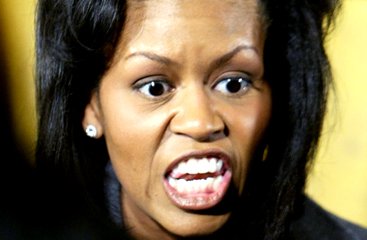 haven't been invited to Prince William's April 29 wedding to fiancee Kate Middleton.
Sources say the couple believe the snub to be a deliberate insult to America!
"Michelle intends to settle the score," an insider told America's Globe magazine.
Recent reports claimed Michelle has been telling her nearest and dearest that she hopes nemesis Oprah Winfrey bombs when she launches her OWN network next year.
"Michelle hates Oprah," alleged one insider. "She's hoping she'll come crashing down to earth with her latest venture."
There must be no fitness trainers in the Washington, DC area of 3,000,000 people who know what they're doing.
WASHINGTON EXAMINER: With a schedule as hectic as President Obama's it must be hard to stick to a training regimen without help — but why does he insist on having his old trainer fly out from Chicago to D.C. regularly when Obama and his wife exhort the rest of us to drive less? And in a recession? According to Ashley Parker at the New York Times, Obama's fitness czar Cornell McClellan comes out to D.C. every week:
Mr. McClellan grew up practicing martial arts, eventually earning a black belt, and as a college student realized that he had a knack for working with people. He owns Naturally Fit, a personal training and wellness center in Chicago, and now spends part of his week in Washington at Mr. Obama's request.
"It was an easy sell for me, because I thought of it as kind of a duty, to serve the president," said Mr. McClellan, who works out with the first couple, often in the early morning, at the gym in the White House residence. Mr. and Mrs. Obama both try to exercise for at least an hour every day, and Mr. McClellan says he usually sees them two to four times a week, depending on their schedules.
David Axelrod says he lost 25 pounds under McClellan's watch, but that comes at a steep cost for those as environmentally minded as the Obamas: 50,000 lbs of carbon emissions. That's how much carbon emissions are involved in McClellan's flying back and forth every week for a year (according to TerraPass.com).
This Trainer Not Getting the Job Done
Great to see a student at the left-leaning Harvard Crimson have the guts to point out the obvious.
DHRUV K. SINGHAL-HARVARD CRIMSON: Every time she opens her mouth and lets loose her latest litany of
seizure-inducing inanities, the media—dutiful stenographers that they are—respond with Pavlovian immediacy. They hail her as a trailblazer and a model for working mothers everywhere, even as they proceed with their objectifying scrutiny of her every questionable fashion decision. She invites the derision of the political opposition and the praise of the political base, while a majority of the country has largely made up its mind about her. She is over-hyped, over-covered, and over-rated. If only I were talking about Sarah Palin.
Ever since her husband ascended to the presidency, the media has prematurely sought to fit the square-shaped Michelle Obama into the circular hole of Camelot. Still bewitched by the moldering majesty of the Kennedy legacy and always on the lookout for an heir to King John's throne, every time a young Democratic couple enters the White House, the media assume that Camelot has been reborn. But like Hillary Clinton before her, Mrs. Obama is no Jackie O.
Now, it is traditionally indecorous to criticize the presidential spouse, a memo that appears to have gone unread by His Rotundity Rush Limbaugh, who classily critiqued the First Lady's "Let's Move" anti-childhood obesity initiative by pointing out that "Our first lady does not project the image of women that you might see on the cover of the Sports Illustrated swimsuit issue."
Not that it matters. But shouldn't you want some gray if you're Prez? He's POTUS, not a competitor to Justin Bieber for Middle School heart throb.

He looks fine either way. But don't lie about what's an obvious fact.
Best to get your facts straight when pandering. Plus, what happened to veggies and healthy eating?
ANDREW CLINE-AMERICAN SPECTATOR: The first rule of political pandering: Know what you're talking
about.
The classic example: In 2004, Sen. John Kerry, trying to bolster his regular guy image, spoke of Green Bay's hallowed ";Lambert Field." It's Lambeau Field. Ten dork points for Kerry.
This week, Michelle Obama walked into a culinary version of the Lambert gaffe.
In an e-mail congratulating Charlotte, N.C., on being named host city for the 2012 Democratic National Convention, Obama mentioned that Charlotte has "great barbecue." As someone who grew up an hour from Charlotte, I can tell you that few natives would say that. Nobody travels to Charlotte for the barbecue. It might have a good barbecue restaurant or two, but the really good stuff is outside of the city.