Posts Tagged 'Rick Perry'
NATIONAL JOURNAL: A spokesman for Texas Gov. Rick Perry's campaign is adamantly denying that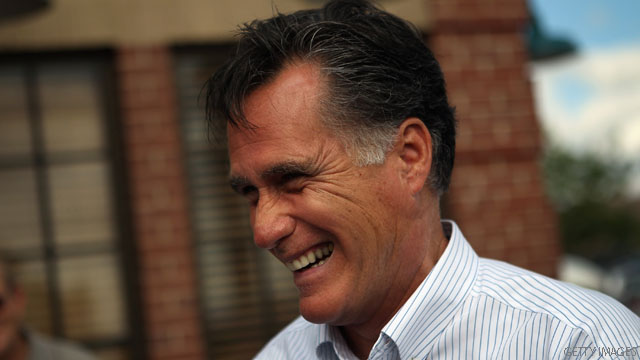 members of the GOP presidential candidate's staff leaked a story has swamped Herman Cain's campaign this week. Instead, the Perry camp is pointing a finger at the campaign of another rival Republican, former Massachusetts Gov. Mitt Romney, as a possible source of the report about the sexual-harassment charges levelled a decade ago against Cain by female subordinates at the National Restaurant Association.
In an interview with Forbes, Cain suggested that the source of the story, first reported by Politico, was Curt Anderson, a consultant who now works for Perry.
"That is false, patently untrue; no one at this campaign was involved in this story, and the first we knew about it was when we read Politico," Perry's communications director Ray Sullivan toldNational Journal and CBS News. Sullivan also suggested it may in fact be Romney's campaign that was behind the story.
"There are blog postings around as well … discussing that Cain's successor at the restaurant association is a big Romney donor and some of the board members," Sullivan said. "There are much closer connections between the restaurant association, Cain, and the Romney camp than there are with us."
He added: "I wouldn't put it past them."
Federal Election Commission records show that Steven C. Anderson, who succeeded Cain as CEO of the National Restaurant Association, gave $1,000 to Romney's campaign on July 14. He also gave the same amount of money to Cain in two $500 installments during his 2003-04 Senate campaign.
What's Team Romney's response to Sullivan's charge? "Not true," said Andrea Saul, a spokeswoman for the former governor.
In the Forbes interview, Cain explained his reasons for suspecting Anderson: He said he briefed the political consultant on the charges that had been levelled against him during an unsuccessful 2004 Senate bid. Anderson was working for Cain at the time. He recently signed on with Perry.
Sullivan denied any connection between Perry staff and the leak, noting that Anderson had denied being the source of the story about Cain's accusers. Responding to a separate report suggesting a possible link between the Perry camp and the Politico story, Sullivan said that Chris Wilson, an Oklahoma-based political consultant who on Wednesday said that he witnessed Cain behaving inappropriately toward women, is not affiliated with the Perry campaign in any formal or informal way.
Wilson works for a pro-Perry political action committee, but federal election law requires such groups to remain independent of the candidates they support.
FORBES: Was the recent attack on Herman Cain's presidential campaign a professional hit job?
Absolutely, says Herman Cain. And he says he knows just where to look for the guy who did it: At 815 Slaters Lane in Alexandria, Virginia, a low-slung former warehouse in the shadow of a coal plant.
There, beside rusting rail lines, is the home of OnMessage Inc., a Republican-leaning consulting firm recently hired to bolster Texas Gov. Rick Perry's presidential campaign.
One of the firm's partners, Curt Anderson, worked on Cain's losing 2004 U.S. Senate campaign. Cain thinks he's the hired political gun who leaked details to Politico, a Washington trade publication, of alleged "sexually suggestive behavior" Cain is said to have exhibited towards two women while he ran the National Restaurant Association in the 1990s. That story set off a media frenzy which has quickly put Cain's campaign on the defense.
Cain campaign manager calls on Perry, POLITICO to apologize to Herman Cain and his family
REAL CLEAR POLITICS: Herman Cain's campaign Chief of Staff Mark Block is calling on Rick Perry's campaign and Politico to apologize to the presidential candidate.
Bret Baier, FOX News: "You're charging the Perry campaign with stirring this up?"
Mark Block, Cain Chief of Staff: "Absolutely and quite frankly, this is one of the actions in America that is the reason people don't get involved in politics, right. The actions of the Perry campaign are despicable. Rick Perry and his campaign owe Herman Cain and his family an apology. Both the Rick Perry campaign and Politico did the wrong thing by reporting something that wasn't true, to anonymous sources in, like I said, they owe Herman Cain and his family an apology."
Was it Romney, Perry, Karl Rove . . . or someone else?
Tough to believe POLITICO even has the competence to come up with this on its own.
HUFFINGTON POST: Former Arkansas governor Mike Huckabee said he could
"almost guarantee" that the recent Politico story about sexual harassment allegations against Republican presidential hopeful Herman Cain came from information leaked by another GOP campaign.
The Politico report revealed that while Cain was head of the National Restaurant Association in the 1990s, "at least two female employees complained to colleagues and senior association officials about inappropriate behavior by Cain, ultimately leaving their jobs at the trade group."
When asked on Laura Ingraham's radio show Monday morning if it was likely the scoop was provided by another Republican campaign, Huckabee agreed with the suspicion and questioned the legitimacy of the Politico report, saying, "Quite frankly, knowing some of the reporters involved — they're not that good."
Huckabee recalled similar tactics involved in his own 2008 presidential campaign and accused other campaigns of hiring investigators to dig through his trash and show up at his children's elementary schools posing as federal inspectors.
"It's insane — one of the fundamental things a candidate will spend money on is [opposition] research," Huckabee told Ingraham.
The Cain campaign has since accused Politico of "dredging up thinly sourced allegations" and called some of the claims "unsubstantiated personal attacks."
On MSNBC Monday morning, Cain Chief of Staff Mark Block said, "Herman Cain has never sexually harassed anybody. Period. End of story."
Former Bush adviser Karl Rove told Fox News that Cain needs to either say "yes or no" to the allegations.
"If these allegations are not true, say they aren't true and put it behind you," Rove said. "If not, better get everything out sooner rather than later because in a situation like this, if there is something there, that something's going to come out."
FOX NEWS: Herman Cain takes the lead in the Republican presidential nomination contest as GOP voters
continue to deny Mitt Romney clear front-runner status.
A Fox News poll released Wednesday shows support for Cain has quadrupled among GOP primary voters since late August. At that time, he stood at 6 percent. After three September debates, he jumped to 17 percent. And now Cain leads the pack at 24 percent.
While it's the first time Romney has trailed Cain, it's the second time he's been ousted from the lead since July. Romney receives 20 percent — a new low for him but still within the margin of error of 5.5 percent among Republican primary voters. Romney was at 23 percent last month and a high of 26 percent in early August.
Carville says Perry should do himself and his family a favor and drop out
THE HILL: Democratic strategist James Carville said Mitt Romney is almost certain to win the Republican presidential nomination, and that both Rick Perry and Herman Cain are not serious candidates.
"I don't think so," Carville said Thursday on ABC's "Good Morning America" in response to the idea that anyone other than Romney could get the nomination. "I mean, Rick Perry's completely blown himself up. There's zero chance that Herman Cain's going to be the nominee."
Carville said the only way Romney won't become the nominee is if the former Massachusetts governor is unable to win enough delegates to clinch the nomination at the Republican National Convention.
"The only thing that I can see is that Republicans just don't like him enough, that he can't accumulate half the delegates as he goes through this," Carville said. "That these candidates just keep going and becoming such an irritant that he can't close the deal — but that's almost impossible to imagine."
At this point, Carville said, Perry should just drop out of the race.
It's now essentially a three-way tied between Romney, Perry and Cain for the GOP nomination, according to a new poll by FOX News.
This poll comes on the heels of a Zogby poll earlier this week that had Cain leading the field: Cain 28, Perry 18, Romney 17, Paul 11.
So Perry's support is clearly melting away after his brain-damaged performance in the last debate when he tried to deliver a long zinger about Romney flip-flops, but the zinger came out as gibberish (see clip below).
Perry could have survived that had he not called Republican voters heartless for opposing subsidies for illegal aliens to attend state colleges and his opposition to building a border fence.
Romney has clearly locked up the GOP Establishment vote, unless Chris Christie gets in. The GOP Establishment really, really, really wants Christie to run because he's no good on social issues: weak on gay marriage, abortion, stopping illegal immigration.
So now the question is: Who will win the conservative Tea Party vote?
Right now, that's roughly split between Perry and Herman Cain. But Cain is rising, Perry sinking. Voters are just getting to know Cain. What they've seen so far they like. What they've seen so far from Perry, they don't. So look for Cain's star to continue to surge.
Here was Perry trying to zing Romney
Rick Perry had a real zinger prepared on Mitt Romney's many flip-flops. It probably would have been good if we could have understood what he was saying.
Perry's stumbling, bumbling attack comes at about 1:28 in the clip:
Now just imagine what Obama will do to Perry in a debate.
We really need another conservative to emerge. Perhaps Bachmann. But her performance in last night's debate was far from her best. Perhaps Herman Cain.
I like Rick Santorum on many issues, but he wants too big of a U.S. military footprint around the world for me. I think we need to scale back our military commitments. We just can't afford a $750 billion defense budget anymore. I'm not with Ron Paul's view that we need to completely retreat from the world or that U.S. policy was somehow to blame for 9-11. But a $300 billion Pentagon budget sounds about right to me. We need more Navy SEALs teams and drone attacks to kill the bad guys. That shouldn't cost $750 billion.
Gingrich is always good in these debates. But I have a tough time envisioning Newt running the federal government. He's a great idea guy, a college professor. He could be a top adviser to a President.
It's still not too late for another conservative to get in this race.
Marco Rubio, Rand Paul, Scott Walker, Bobby Jindal, Sarah Palin, Jim DeMint, John Kasich, Mitch Daniels . . . report for duty.
This race is still wide open for almost any solid conservative who wants to take the ball and run with it.
CNBC: Front-runner Rick Perry stumbled during the Republican presidential candidates' debate on Thursday when asked what he would do if he got a 3 a.m. call alerting him that the Taliban had gotten nuclear weapons from Pakistan.
"Well obviously, before you ever get to that point you have to build a relationship in that region. That's one of the things that this administration has not done," the Texas governor replied at the debate in Orlando, Florida.
Perry made a reference to recent U.S. military accusations that Pakistan's intelligence service was backing Afghanistan's Haqqani insurgent group in carrying out attacks against U.S. targets, including the American Embassy in Afghanistan.
Then he talked about the importance of improving relations with India, Pakistan's neighbor and nuclear rival.
"So to have a relationship with India, to make sure that India knows that they are an ally of the United States. For instance when we had the opportunity to sell India the upgraded F-16s, we chose not to do that … The point is, our allies need to understand clearly that we are their friends, we will be standing by there with them," Perry replied.
"Today, we don't have those allies in that region that can assist us if that situation that you talked about were to become a reality."
The answer raised doubts about Perry's foreign policy expertise in the region where the United States has been at war for a decade.
Candidate Rick Santorum, who has gained little traction in the race for the Republican nomination to challenge President Barack Obama in 2012, said Perry had failed to answer the question about the Taliban obtaining nuclear weapons.
"Working with allies at that point is the last thing we want to do. We want to work in that country to make sure the problem is defused," Santorum said.
ABC NEWS: Although Rick Perry said at a debate on Thursday that he was "lobbied" by a 31-year-old woman suffering from cervical cancer to require young girls to receive the HPV vaccine, he did not meet the cancer patient until after he had already issued his executive order mandating the vaccine.
It was a rhetorical high point for Perry at the debate in Florida, when he put a personal face on the story and pointed to his friendship with a woman who later died of cervical cancer.
"I got lobbied on this issue. I got lobbied by a 31 year old young lady who had stage 4 cervical cancer," said Perry. "I spent a lot of time with her. She came by my office She talked to me about this program.
I readily admitted we should have had an opt-in but I don't know what part of opt out most parents don't get and the fact is I erred on the side of life and I will always err on the side of life as a governor as a president of the United States."
JOHN MCCORMACK-WEEKLY STANDARD: During Thursday night's Republican presidential debate, Mitt Romney, Michele Bachmann, Newt Gingrich, and Rick Santorum all took shots at Rick Perry's record on illegal immigration. Bachmann said that Texas's law allowing in-state tuition for the children of illegal immigrants acted like a "magnet" for illegal immigrants. Perry's response was forceful and personal. "I don't think you have a heart," Perry told his critics.
"If you say that we should not educate children who come into our state for no other reason than that they've been brought their through no fault of their own, I don't think you have a heart," Perry said. "We need to be educating these children because they will become a drag on our society. I think that's what Texans wanted to do. Out of 181 members of the Texas legislature when this issue came up [there were] only four dissenting votes. This was a state issue. Texas voted on it. And I still support it today."